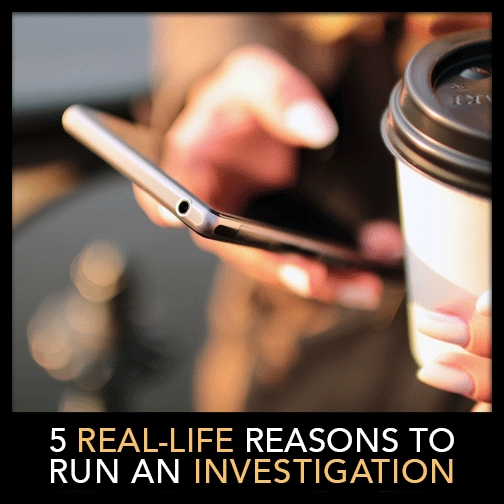 5 Real-life Reasons to Run an Investigation:
Whether it's through a surveillance operation, a series of background checks, a fully-fledged fraud investigation or any of our associated services, we'd like to share why it's so important that you run an investigation.
Through our own personal experience, as one of Australia's leading private investigation agencies, we've seen nearly every conceivable case, ranging from bog standard to down-right bizarre. In each, we've seen people get taken for all kinds of rides, some more costly than others, and with those consequences in mind, here are five reasons as to why you should consider hiring Precise Investigation:
5 Real-life Reasons to Hire a Private Investigator:
Hearts are easily fooled

– In an article we recently posted, like many before it, we've seen people fall in love with a person, only to discover down the road that that person isn't who they thought they were. Secret families, ongoing infidelity, illegal professions and even previous sex changes have all been swept under the rug and, in most instances, it was due to suspicion and suspicion alone that our clients contacted us to dig up the truth. Had they opted for a quick investigation, respectively they could have saved themselves thousands of dollars in legal fees, prevented their homes being ransacked, avoided shame and of course, broken hearts.

Things that are "too good to be true" usually are

– When you're looking through someone's credentials or you're being told about a given person or asset's history and you can only see the silver lining, then it's time to get the shovel. Although it may be true that many people are really who they claim to be, or that business really has seen continuous growth over the last three quarters, you'd be surprised how many times those facts, figures and references, like generalised statistics, are completely fabricated. We've had clients invest in businesses that, on paper, seemed like sure-fire gold mines, only to realise a year or two later that the people they invested in weren't what they'd promised. The same goes for unqualified people faking résumés to get jobs with higher salaries, or access to confidential information. Like an accountant, for example, whose only intention is to acquire your bank details before jumping ship, or a fake gynaecologist who only wants to… you know… see stuff.


Bad decisions lead to wasted time

– It's a weird notion, but in all aspects of any relationship with a fraud, whether personal or corporate, it tends to end with precious time being siphoned away. Take an inexperienced babysitter as an example; his or her résumé says she's worked for ten families across the state and all with beaming references, yet when s/he comes over you notice things going missing from your home or your kids are simply left to their own devices… all the time. Or that person you met online who you've seemed to hit it off with so well, only to find a year later that their mother, brother, aunt or uncle has fallen terribly ill and your financial support is now warmly welcomed. We've also known of people to turn down dates, interviews, meetings and more because of a new love interest, before finding out that those people actually had wives or husbands and were simply trying to get a little more on the side.

Your future depends on it

– Whether your dreams are to run a multi-national enterprise, to start a family in a nice suburban house or something in between, you will need to invest time and money into them if you want to see any fruition. As such, imagine your horror when you realise that over the last five years of your life, someone has simply been using you to get what they want, thereby setting you back on what you want to accomplish. As an example, you run a start up and you're looking to push onwards and upwards, so you hire a manager with tons of experience to get some results. He's good, he gets on well with everyone and he's not making mistakes… but you the realise after speaking to someone that a guy with those credentials should be delivering 10x the productivity with minimal effort. How could that be? Well he probably lied on his résumé. And the family? Imagine you fall madly in love with a person and your relationship goes from strength to strength for years on end, until you find out that your partner is actually a homosexual, using you and your home as a rest-stop while they have their fun behind your back. We've seen it happen!

Genuine peace of mind

– So you've been burnt before; you hired a dodgy secretary who stole all your stationery or you fell in love with a liar and now every time you take a step to trust in someone new you catch yourself being suspicious. Sound familiar? Well, a private investigator can ultimately help to put your mind at rest, whether something really is wrong or not. We can systematically review the evidence you provide or we dig up and we can come back to you with the answers you need. In many cases we find that there's nothing to fear, and you are within your full right to trust in the newbie, but in others your suspicions may have been spot-on. Either way, with the information we provide, you can make an informed decision as to how you'd like to move forward and know that you've done so because it's best for you and your prerogatives.
If you'd like a more detailed list of what a private investigator can do for you or your business, then please refer to our list of 101 Things a Private Investigator Can Do For You, by clicking here.
For a personal, discrete and highly professional approach to your case, whether domestic, corporate, governmental, industrial or even international:
Call Precise Investigation today on 1300 856 011 for a discrete, professional private investigation service.
To see more about what Precise Investigation has to offer, find out about who we are and why we've managed to maintain our solid reputation as one of the country's leading authorities on private investigations, please click here to visit our homepage.
Precise Investigation and our trained, qualified and insured investigators have worked across every state in Australia; we have offices and operatives stationed in Melbourne, Sydney, Perth, Adelaide, Brisbane, Hobart and even the more remote reaches of the country to give you, our client, unprecedented access to some of the top minds in the industry. Just get in touch with us today by clicking here or calling the number above and we'll be sure to provide the answers you need.
We look forward to hearing from you.