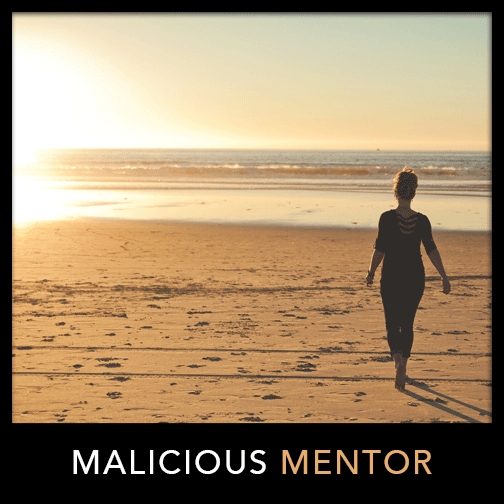 Malicious Mentor:
Christine Madison is a recovering meth addict. After her family held an intervention for in late 2015, she agreed to enter a rehabilitation program at Melbourne-based clinic.
As Christine had never suffered any previous convictions, or become wrapped up with police regarding her issues, she was free to visit the recovery centre as she wished. The first few visits were often cut short by her discomfort at hearing what other addicts had been through or done, but after her brother, and life-long friend, Daniel decided to join her for support, she became more patient – allowing herself to sit through the entire, hour-long session each night.
As is usual for new arrivals to the recovery centre, after an addict makes him or herself known by admitting to their addiction, the clinic went on to partner Christine up with a mentor; a person who, themselves, had been an addict some time ago, but who'd managed to stay "clean" for over a year. With that, a lady by the name of Melanie Campbell, previously addicted to both crystal meth and cocaine, became her mentor.
Melanie had a long history of drug abuse violations, having been caught breaking into people's homes to steal so that she could fuel her habits; she had also been convicted of assault after she attacked an elderly woman in the street who'd, reportedly, tried to convince her to stay away from drugs. These facts had been described to Christine many times during the group meetings, but Melanie's progress as a recovering addict was some of the most drastic and successful that the centre had ever seen.
Melanie was assigned to Christine to show her the dangers in her addiction and the damage it would cause her and her family if she decided to continue using. Thus, the two would often spend time together, away from the clinic, mainly after Christine finished her shift as a postal service administrator. Melanie would invite her for coffee, early dinners and occasionally for a trip to the cinema, and over time their relationship grew stronger.

To her family, Ms Madison only had good things to say about Melanie, which filled her parents with confidence that she was on the right track… however, Daniel had also met her when he joined his sister at the meetings, and heard all of Melanie's stories about her past. He was happy to hear that his sister was not only recovering, but seeming to enjoy the process too, but he couldn't help but feel uneasy about Melanie's involvement in his sister's life; a sentiment that became all the more clear after she was invited to a family dinner and Daniel noticed her putting her hands on Christine's thighs while his sister was talking.
Christine had never shown a romantic interest in women before, albeit her love life was always a little rough around the edges in that she'd never had a relationship last longer than a few months. Most notably, her previous three boyfriends had all suffered stronger addictions than she had, and she was lucky enough to realise it before things got too serious. Now, with that, judging by Melanie's seemingly manipulative demeanour, Daniel couldn't help but feel that despite Christine's recovery, she was being lured into a situation that wasn't healthy.
After giving it some thought, Daniel decided to call Precise Investigation and have us follow Melanie over the course of a few days in an attempt to determine her real intentions, or at least until we gathered enough evidence to prove that she was "normal." So, we assigned an operative to the case who went about tracking the mentor through her everyday life; her meetings with ex-addicts, her rendezvous' with Christine and surprisingly, her frequent visits to a pawn shop.
On closer inspection, our agent noticed something alarming about Melanie's interactions with the people she met. She was always very charming, almost trying to be overly alluring with each of them, and in the process, using that charm to mislead her "friends" while she stole from them. Her trick was noticed after she was bidding goodbye to a male associate, when she went in to seemingly kiss him, but turned away to whisper something in his ear instead, and as she did, she stuck her hand into his backpack and removed what appeared to be a portable hard drive. A similar manoeuvre was noticed when she attended another recovery meeting, after which she invited a lady to join her for coffee and began touching her "passionately" on the arm in what appeared to be an act of comfort. Only that Melanie ended up lifting the lady's bracelet in the process.
With these observations noted, our operative paid even closer attention to her interactions with Christine when they got together. Sure enough, Melanie's slip-up came about when the two decided to stop off for one of their frequent early dinners. Christine excused herself to visit the restroom and left her handbag under the watchful eyes of her "friend" and mentor, Melanie, who took it upon herself to open the bag, remove Christine's wallet and help herself to a $20 note before putting everything back and sitting pretty. Our agent was able to capture over 50 still photographs of these "transactions" as well as recording each one on video.
The next day, we invited Daniel over to our Melbourne offices and presented him with the evidence we'd gathered. Seemingly unsurprised, he thanked us and took the footage home to present to his family, telling us that he was also hoping to inform the head of the recovery group about Melanie's actions.
Needless to say, we're sure that Melanie and Christine would no longer be meeting on a regular basis and we hope that our work will have helped at least a few dozen people from having their personal belongings stolen.
Precise Investigation works across a wide and diverse range of industries, personal issues and all concerns regarding any form of malpractice. Our thirty years' experience in the field has allowed us to grow and become one of the country's most successful, reputable and professional private investigation firms. It is our sole aim to provide clients with the evidence they need to overcome their issues in any part of their lives and we take pride in delivering some of the highest success rates that Australia has to offer. If you'd like us to work with you and have your troubles thwarted like hundreds before you, then please:
Call Precise Investigation today on 1300 856 011 for a discrete, professional private investigation service.
If you'd like a more detailed insight into our surveillance services in particular, then please refer to this link: Tailor-made Surveillance Services.
We have offices located across Australia, with operatives available to provide professional, discrete and cost-effective private investigations to Melbourne, Sydney, Brisbane, Perth, Hobart, Adelaide and even the more remote areas of the country. So, if you're ever in need, please get in touch with us today.
Thank you and we look forward to hearing from you.

Please note: All names, locations and characteristics of the people, places and items described in this article have been changed to protect the identities of those involved.