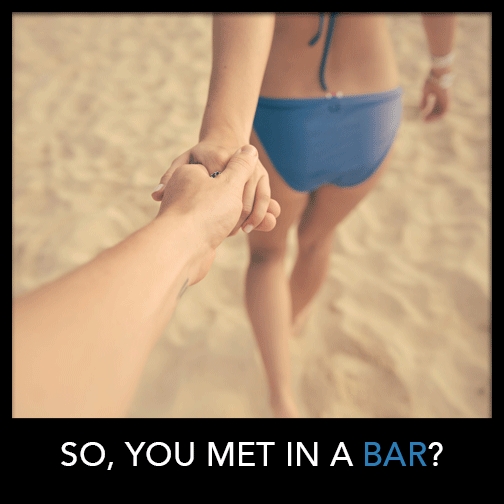 So, You Met in a Bar?
James E. Payton is a wealthy online marketer, having spent most of his career developing successful brand campaigns for mid and high-level businesses internationally. He'd been head-hunted from a company he was working for in Singapore, to provide his expertise to a smaller, up and coming advertising agency in Sydney.
He got settled in pretty quickly and immediately made some valuable changes to the way in which the company was set-up, and how it went about doing its business. Within just six months, James had managed to bring in four major clients, as well as increasing the turnover, two-fold, of three of Dolly HQ's existing clients – Dolly HQ being the Sydney-based advertising agency.
With that, the company decided to take James and a few of their other higher-ups to celebrate, venturing out to a few of Sydney's biggest and most popular night clubs.
James, just 35-years-old, was inclined to take on every challenge they threw at him, least of which was taking regular shots all through the evening and approaching women pointed out to him by his colleagues. Towards the end of the evening, they happened to point a woman out that he'd been interested in since entering the venue; dressed in a short blue dress, with lacings of gold to match her shining blond hair.
A little nervous at first, James plucked up the courage to initiate a conversation – he'd noticed a few men before him fall flat, either simply being ignored from the get-go, or having her back turned on them after their advances were perhaps a little too strong.
He introduced himself and she seemed to show an immediate and very sincere interest in what he had to say. They spoke for a few hours, even dancing together at several points throughout the remainder of the night, before she asked him if he'd like to take her home.
James was thoroughly impressed with the outcome; it turned out that Bianca, the woman in blue, was in fact a nurse in training, working out of one of Sydney's foremost women's clinics, and the two had hit things off very well indeed.
Over the next few weeks they'd made plans to see each other; going to the cinema, having dinner out and even enjoying a spot of go-karting over one weekend. James felt as though he was growing closer to Bianca with each passing week and, since he'd not had a proper relationship in some time, was excited at the prospect of being able to have one with such an attractive, charismatic, fun-loving and intelligent person.
As James continued to succeed at work, so too did he manage to maintain this new-found love interest, eventually going on to form a seemingly solid relationship of eight months. However, it should be noted that Bianca had never invited James over to her home, often telling James that it was an embarrassment, especially after seeing his place in comparison; Bianca had never introduced James to any of her friends or family, the former of which were in short supply due to "trust issues" and the latter were living out of Australia, somewhere in Europe; and Bianca was never able to spend more than one night with James at a given time. This last point was what began grinding his gears the most as he had often wanted to go away with her over a long weekend or just spend more than a few nights a week with her after work.
Nonetheless, after this eight-month period, and taking into consideration her "embarrassment" surrounding her accommodation, James decided to take the plunge while the two were out for dinner one evening, and invite Bianca to stay with him.
Although touched by the offer, she refused, saying that her work would often get in the way of them spending "peaceful" evenings together, and fearing that it would put unnecessary strain on the relationship.
In an attempt to hide his disappointment, James decided to back-off a bit and give the situation some thought. He couldn't understand why she thought the relationship wouldn't work and so he began losing himself in distant thoughts into how, why, what, where and when she was working; he'd never heard her take a call from her work, nor had he ever seen her look at her mobile phone other than to check the time; he'd never seen her in uniform despite her coming over to his house straight after work on a few occasions – but he dismissed this idea after figuring they'd probably have changing rooms at the clinic – he'd never heard her mentioning any of her patients, colleagues, boss or anything to do with where she worked and he couldn't get over the fact that she had no real friends. For such an amazing person to be so alone was very odd to him.
Regardless, after a few days silence, James decided that he'd like to have a conversation with her about all of those little issues and see whether he could make their relationship stronger by diving a bit deeper into her personal life, with her. As such, he bought a beautiful bunch of flowers and decided to leave them at the reception desk at her clinic while she was at work, with a note explaining that he understands things can move more slowly, but that he's very willing to try and take things more seriously with her; going on to invite her to a special dinner that he was in the process of planning, just five days later.
Only one problem… after placing the flowers on the desk and being greeted by a delightful and cheerful receptionist, James was mortified to hear that "nobody by the name of Bianca" worked at that clinic. The receptionist, trying to be helpful, telephoned the other branches while James waited, and reported more bad news; there were no nurses by the name of Bianca working in any of the clinics.
Horrified and incredibly confused, James called Bianca, whose phone went to voicemail. He left her a message asking to be called back because he had something important to share with her. Roughly four hours later, she called him back, apologising for the prolonged silence, but blaming work for being busier than usual. James went on to ask her where she was working, considering he'd just been to the clinic she'd mentioned before and explaining the situation. Bianca argued that she was a nurse in training and, as such, moved from one hospital to another (and clinics) and spent no more than two days at each until her training was finished in year's time. She seemed a little upset at the fact that James had "stalked her," and so put him on the back foot in trying to explain himself and his actions, before the two finally agreed to have that nice dinner he'd planned.
However, James was not entirely sold by her story. There were too many oddities in what she'd told him about her life, her friends and her family and now after this situation he felt he really needed some closure.
That evening, when James got home, he made contact with one of our operatives and enquired as to whether a simple surveillance operation could be carried out before their next date in under a week. Precise Investigation took on board all of his notes and requests and went about following her the next day. James had previously asked for her address, not to visit her, but to send a birthday gift to her home considering she'd been assigned to a triple shift over that period. With that, our operative was able to wait outside her apartment and follow her closely.
Within just twenty-four hours, everything became clear. In the morning, Bianca paid a visit to a man living in Dover Heights, leaving his home after just an hour with slightly wet hair. From there, she visited another man, this time in Bellevue Hill, where the two had lunch together before stepping into his Mercedes and heading over to his home. There, our operative was able to capture footage and photographs of a monetary exchange through the bedroom window. Lastly, that evening, Bianca was photographed going into the same bar that she'd met James in, leaving with a much older man before being collected by what seemed to be the man's personal limousine.
Our man at the scene followed the car to the Darling Point estate and managed to capture a conversation between Bianca and "Henry" about what he'd wanted her to do this time, following which she responded with a price: $600 "extra."
The evidence was gathered and presented to Mr Payton the following day. We felt bad having to confront him with what we'd found considering his seemingly genuine interest in her, but we light-heartedly reminded him that "you should never date someone you meet in a bar." All too often we've seen, heard and personally exposed malicious intent or hidden truths about concerning couples who met in bars and clubs. This was no different.
Bianca was, unfortunately, a prostitute – and although never charging James for her time, nor demanding anything from him, which led us to believe that she was perhaps genuinely interested in him too, she did sell herself to some of Sydney's more affluent members of society on a regular basis… which was far from the story she'd told James and the person he thought she really was.
Needless to say, James cut it off with Bianca and has since focused more time and energy on his work.
Precise Investigation can help you or your business uncover a wide and diverse range of hidden agendas, lies, corruption, fraud, embezzlement, malpractice, misconduct and deceit. We've been doing it for thirty years and we've remained at the top of Australia's private investigation industry for continually delivering the results our clients need. Whether you're suspicious of your partner, you're interested in knowing more about that next big investment opportunity or you'd just like a little more information about something or someone; Precise Investigation is here to help.
Call Precise Investigation today on 1300 856 011 for a discrete, professional private investigation service.
Please click on this link to find out more about our professional, tailor-made surveillance services.
We have operatives stationed throughout all of Australia with quick and easy access to Sydney, Melbourne, Brisbane, Perth, Adelaide, Hobart and even the more remote areas of the country. If you're ever in doubt about someone or something, and you'd like some evidence to help steer your judgement in the right direction, just give us a call.
We look forward to hearing from you.

Please note: All names, address and characteristics of those described in this article have been changed to protect those involved.