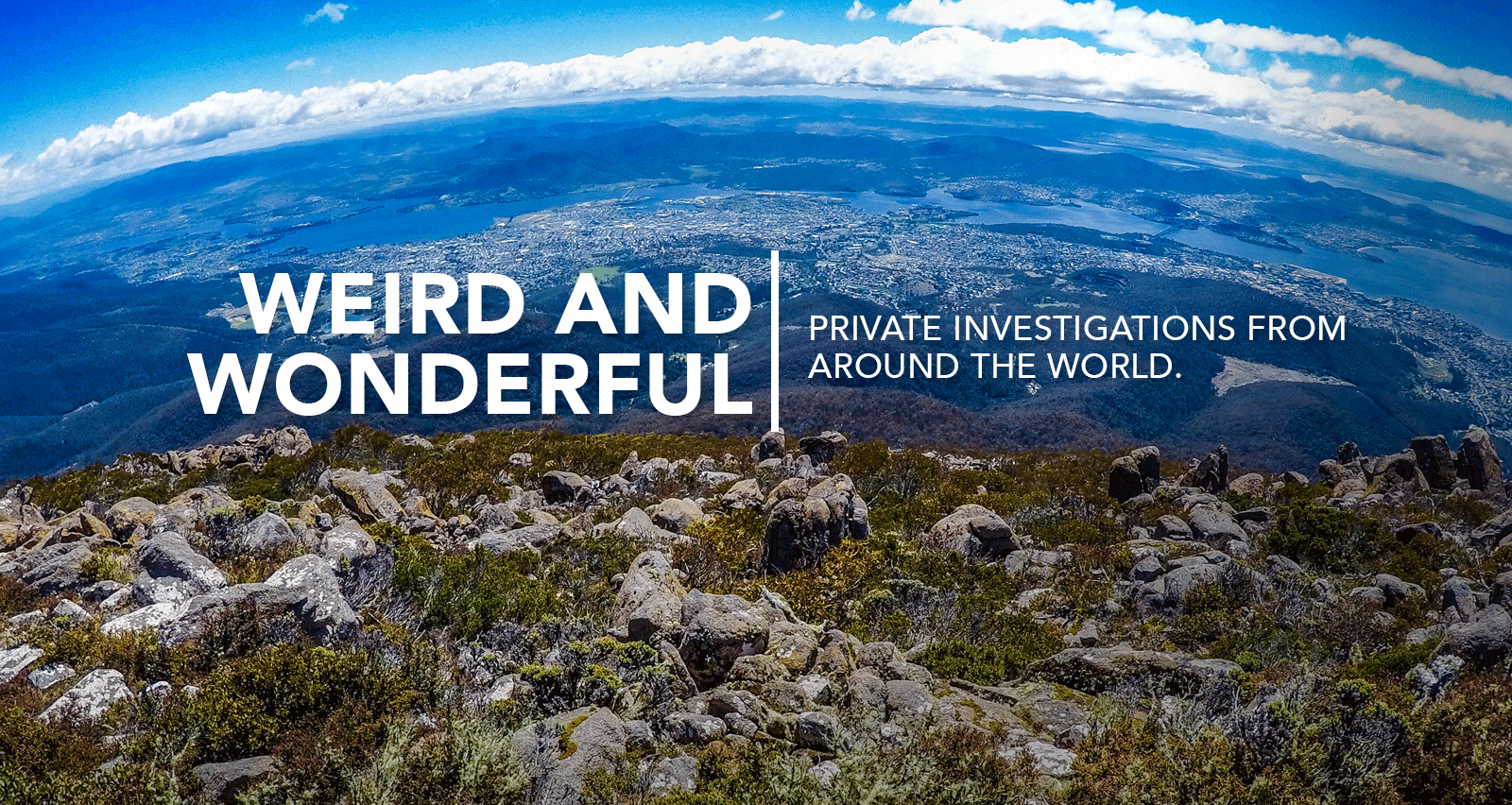 A Few Weird and Wonderful Cases from around the World
Sometimes while working as a Private Investigator, you end up working on the strangest things. While the majority of cases that you work are straight forward corporate, infidelity, background checks or locates, you sometimes have a client surprise you with their request. Just to show you some examples, we've collected a list of some incredibly weird jobs that PI's around the world are, or have been, hired to do.

Brothel Buster
Did you know that the New South Wales government hires licensed Private Investigators to locate and gather evidence on illegal brothels? That might not seem particularly weird at first, until you realise that as part of those investigations, the detectives are required to accept the services on offer or encourage the opportunity if not immediately asked. An Investigator interviewed by News.com.au stated, "I don't broadcast it because it is a little bit unbelievable to be involved in this sort of work. But it is quite enjoyable." The lives of some private investigators are quite a lot closer to Hollywood's depictions than some lead on, eh?!

Investigating children on behalf of their parents
In 2009, several investigators told The Advertiser that parents were hiring them to carry out surveillance on their teenaged children and their friends. Usually to ensure they weren't taking drugs or mixing with the wrong crowd. Some firms also sell hair testing kits to parents, allowing them to carry out drug testing themselves. There have also been cases where parents have put their university-aged children under surveillance, worrying about their actions or lack of attendance once they've moved out of the family home.

Checking if their girlfriend used to be in porn
On a social media site, a former private investigator shared two cases that an eccentric millionaire hired him to do. The first was to perform surveillance on his brother, in order to determine whether he was misusing his title, "Ambassador" or continued to use it after leaving the position. The second, and and more strange of the two was undertaken to confirm his suspicions that his current girlfriend was an ex-pornstar. He wanted proof, so the investigator and his team were required to search through multiple porn sites and ended up watching a "ton" of videos, with no results. The former PI finished his recollection by writing "I bet if they had just paid a bunch of 16-year olds, they would've found videos of her if they existed."

Covert cat surveillance
Once again on social media, an anonymous Private investigator recalled how a possibly overly curious pet owner once hired him to follow their cat. The apparent motive was that they wanted to know what their feline companion did while they were at work. As I'm sure you could expect, the findings were not all that surprising as they found the "cat just walks around the streets, licks itself and climbs trees…." Still, while it wasn't the most interesting case to work on, probably the easiest in that investigator's career.

Fat Fido
Similar to the previous case of the curious cat, a dog owner hired an investigator to determine why their canine companion was starting to get a bit podgy. Once again this proved to be a pretty easy case; Sherlock Holmes, take the day. The dog had apparently taken to wandering the neighbourhood while the owner was at work, making his way over to almost every house and inevitably being fed at nearly every house.

The Ghostbuster
One private investigator was asked to use his investigative and surveillance training to determine whether the client's house was haunted. While they admit they were tempted to have a crack at being "fake-Ghostbusters," professional integrity won out. Instead, they offered to run a background check and property search, in order to confirm whether any serious crimes or violent acts had been carried out on the property and in the belief that if there hadn't been, the place wouldn't be haunted. Apparently, the service proved so popular that the agency embraced it as part of their standard service portfolio.
If you think your issue is too strange for a PI to handle, you might just be surprised! If you have an issue, enquiry or mystery that you want exposed or otherwise handled, please don't hesitate to give us a call on 1300 856 011, anytime.
Remember that we're a Government-licensed private investigation agency who've worked with hundreds of private and commercial clients, just like you, across all of Australia over the last thirty years. We have the experience, resources and the skillsets required to have your investigation seen too quickly, efficiently and, most importantly, discreetly.
Thanks for reading!
The Precise Investigation team