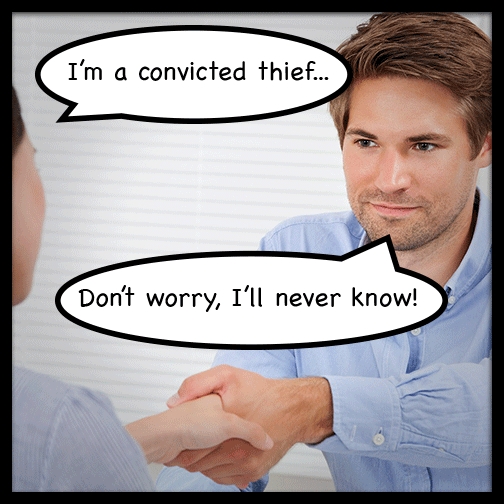 33 Reasons To Run A Background Check:
Background checks are a versatile tool that can help individual people, businesses, financial institutions, government bodies, legal entities and education providers to clarify their perception of another person, organisation or third party.
Well, what does that mean, exactly?
You can use background checks to confirm information, uncover hidden truths, expose lies, learn new facts and more, about people, cars, businesses, organisations and pretty much anything else that you'd like to know more about!
Below we have listed 33 noteworthy reasons to employ the use of a professional background check, in no particular order. You'll notice that background checks are applicable across all industries, states and countries, and that people, corporates, schools, financial institutions, resource providers, State and Federal Governments and more can all benefit from them respectively.
Here are 33 Reasons To Use A Professional Background Check:
Reduce the risk of thieves finding a way into your workforce

Expose lies regarding WorkCover claims

Gather up-to-date information on a person's contact details

Estimate the real value of a potential business partnership

Prevent unqualified people from causing harm to others

Verify the legitimacy of an insurance claim

Build a portfolio of trustworthy contractors

Learn of a business' ability to deliver on its promises

Establish the truth about a person's previous marital history

Find out whether a person is lying about their past

Decrease the potential for a fraud to enter your business

Validate the authenticity of company reviews and feedback

Check whether an online date is legitimate

Explore the legitimacy of a person's references

Understand the real level of experience that a person or business possesses

Confirm the validity of an invoice and its associated sender

Reveal a person's real name

Explore the truth regarding a person's education

Protect yourself from being scammed

Evade public shame through negative press

Confirm the status of a particular vehicle or motorcycle

Determine how suitable a person is to care for children

Uncover a person's history of medical ailments

Prevent theft from contractors

Reduce the risks of hiring an underperformer

Determine the real value of a prospective home, office or building

Reveal a given person's birth date and location

Review details of a person's psychological disposition

Protect your company from false claims

Avoid financial turmoil

See whether a person is really from where they say they are

Verify a person or company's identification documents

Find out if your partner's interests really lie where they claim
After thirty years, Precise Investigation maintains one of the most effective, professional background checking services in Australia.
We have personally assisted companies, individuals and organisations of all sizes to recover from the damages they faced at the hands of fraud, thieves and liars. With that experience, we are more than aware of how much these clients could have saved, had they simply chosen to perform a background check before making that critical decision.
Background checks are your first line of defence when looking to invest trust in a person or organisation; without them, there is little need for certificates, résumés, references, experience, criminal records and the like – all of these statuses exist to give us a good indication of who it is or what it is that we're dealing with. People and businesses around the world have trained themselves to build your trust, just to steal from or manipulate you in some way down the line. In a different league, there are also people who go to great lengths to prove that the world owes them something, when in fact that's not the case at all.
People faking injuries, claiming health issues, lying about their relationships, exaggerating their pasts or falsifying their qualifications, amongst a wide range of associated malpractices, are becoming more and more capable of forging the necessary documents or hiding the evidence.
In a day and age where nearly all personal information is created, stored and handled through the internet, there is surprisingly little we can do to prevent people from accessing, manipulating, forging or sharing their, or their business' public information – whether that information is true or not is the question that more people need to be asking.
Precise Investigation can help you get to the bottom of your troubles and provide you with new-found peace of mind. Get in touch with us today and see how we can implement a simple and cost-effective background check for you at a moment's notice.
Call Precise Investigation today on 1300 856 011 for a professional, Private Investigation Service
If you'd like to know more about our professional Background checks, before getting in touch with us, please click here.
We can have a specialist field operative, with dedicated support team, ready and available to serve you no matter where you are in Australia. Melbourne, Sydney, Perth, Adelaide, Brisbane, Hobart and even the more remote areas of the country are all within reach, so wherever you are, call us today.