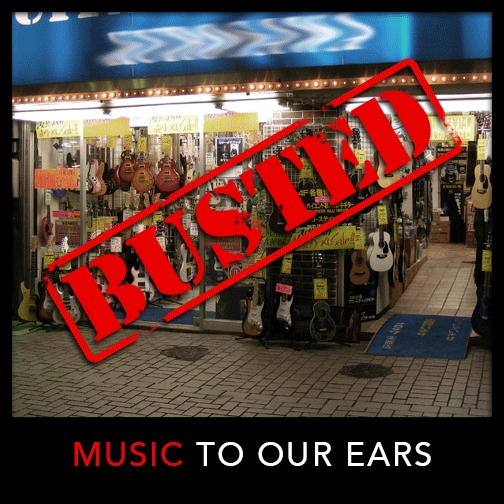 Music To Our Ears:
Robin Holson, a music enthusiast and guitar collector of 20 years, recently brought a case to Precise Investigation after purchasing three limited edition Yamaha, Gretsch and Ibanez electric and electro-acoustic guitars.
He bought the items from a newly established music store on the edge of Melbourne's CBD after walking by and seeing the guitars through the window. Amazed at the quality of their collection and the price of their stock, which they claimed were so low because they had only just opened and were looking to make a name for themselves as the cheapest, high-quality music store in Australia, Robin forked out over $11,000 and had the guitars delivered to his home the following week.
A few months later, after a busy day out and feeling inspired, Robin plugged the guitar into his amplifier and began strumming when two of the strings immediately snapped. A little shocked, considering it was brand new, Robin then removed the other strings and went about refitting a new set – he kept many various string sets in his desk drawer as breakages were fairly common after heavy use.
It was during the restringing process that he noticed that his machine heads, the key-like devices on the head of the guitar, which hold the stings in place and allow the guitar to be tuned, lacked the strength to put enough tension on the strings. After this discovery he inspected the rest of the guitar and found a number of small, but noticeable flaws on the guitar's ebony neck and paintwork surrounding the metal ancillaries on the body.
Online, the guitar retails for approximately $6,700 AUD and having spent just $4,000, it dawned on Robin that he may have made a grave mistake. He went on to unwrap and inspect the other guitars he'd bought. In the store, his excitement got the better of him – a quick play, the general look and feel of each and their low prices had him overwhelmed. He hadn't noticed that the bridge, the metal device at the bottom of the guitar that holds the strings in place and defines the guitar's intonation, hadn't been properly moulded; showing signs of a rush-job and little attention to detail, which Ibanez would never allow.
Robin then ran a Google search for the store to retrieve a contact number. He came across their website and called in to ask about for more information regarding the guitars, however, he was incredibly disappointed to find that the number he'd reached had been disconnected. As such, he got into his car and headed over with the three guitars for a refund. Upon arrival, he was even more shocked to find that the store was empty, with all branding and stickers removed from the windows and no evidence of their ever having been a music store there.
At this point, Robin decided to get in touch with the Police to explain the situation, however due to the nature of the case and the fact that he had in fact been sold tangible items, the Police were at a loss; a civil case called for outside help.
Stopping off at a local coffee shop, Robin found our details online and asked us whether we could help. After explaining everything and providing us with key information, we set our dedicated support team to work to uncover more information about the business and its respective owners.
We found that the ABN and associated registration information for the company had been initiated only a month before Robin made his purchases, and then de-registered just three weeks later. However, we did recover a name and an address from the process: Gia Xing, residing in St. Kilda.
From previous experience in dealing with pop-up stores, shops that open for a limited time to release or resell items quickly before closing down again, we understood that the business would most likely reopen, under a different name somewhere else. As such, we assigned an operative to follow Mr Xing, who drove about freely in St Kilda, going about shopping for groceries and general dining for a three days, before heading over to Malvern East where were able to record Gia meeting with two associates, both of Asian descent, at a small bistro.
Within just four days of that meeting, we were able to capture Mr Xing and his colleagues reopening a new music store, with a different brand name, on a busy street in the neighbouring suburb of Toorak. From there, we had our support team run a check on the property and its ownership information, revealing a property management company that had been put in charge of leasing the store on behalf of it's long-term owners. We arranged a meeting to discuss the terms of the music store's lease and how long it would last, under the premise of potential interest in the property, finding that the new agreement was in fact only arranged for 3 months.
Further to these findings, we continued to track Mr Xing's associates, which led us to their individual homes in Malvern East and Sandringham. Employing the help of our dedicated support team once again, we were able to identify the occupants by name before going on to run a detailed background check on their personal and occupational history. The checks revealed an interesting, yet unsurprising run of short-term store leases throughout the state, many of which were linked to some kind of musical instrument and computer technology sales, none however, lasting more than six months at a time.
With this evidence in hand, along with the photographs and video footage we'd recorded of the three men liaising with each other at multiple locations across Melbourne, we compiled an information package for Robin to hand over to the police. Considering we had managed to uncover the culprits' real names, home and business addresses and their occupational histories, along with Robin's personal experiences in having dealt with these individuals, the police were able to take his case and follow up to have the suspects questioned.
Precise Investigation has helped a multitude of domestic, corporate, government and industrial clients to uncover the truth, locate missing individuals, reveal hidden pasts, expose fraud and more. Irrespective of your background or the severity of your potential case, get in touch with us today and have one of our operatives lend a helping hand in getting to the bottom of your troubles:
Call Precise Investigation today on 1300 856 011 for a discrete, professional private investigation service.
If you'd like to find out more about our professional background checking services, surveillance operations or fraud investigations, please click on the links below:
Professional Surveillance Services
Precise Investigation has operatives stationed throughout Australia, regularly servicing the likes of Melbourne, Sydney, Perth, Adelaide, Brisbane, Hobart and even the more remote areas of the country. So, wherever you're based, and no matter the nature of your case, get in touch with us today and see what over thirty years' experience as one of Australia's leading Private Investigation firms can do for you.
Thank you and we look forward to hearing from you.

Please note: All names, locations and characteristics of the people, places and items described in this article have been changed to protect the identities of those involved.
Image credit: Thank you Wikipedia