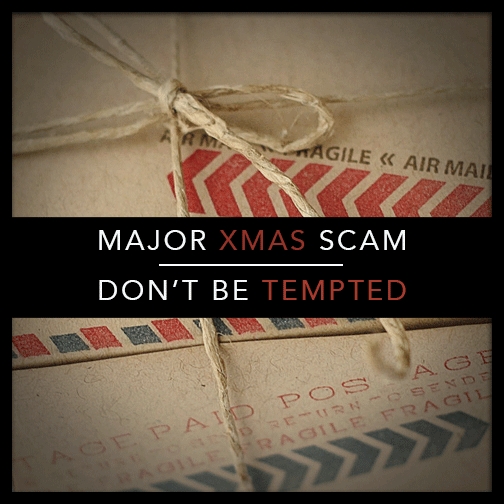 New Christmas Scam:
The ACCC has released a "high alert" warning, advising consumers of a new malicious scam that's already seen over $80,000 AUD stolen since 1st December of this year and over 100 reports – that's already more than the whole of last December's reports and significantly more in costs to the victims so far.
So, what's the scam?
The scam appears in email form, allegedly from major parcel delivery companies such as Australia Post, DHL and Fedex, and despite a few inconsistencies here and there, it all looks pretty legitimate. The email is addressed to the victim's full name and the main body of text, along with all the logos, look very convincing – we'll tell you in just a moment about how to spot the fake emails – making it difficult for your average Joe to pick up on the dangerous and expensive scam.
The email informs the victim that they have been sent a parcel, which is being held at the Austraila Post, DHL or Fedex depots for confirmation of receipt before being dispatched to their homes, or that a delivery was already attempted but nobody was available to receive the item.
From there, victims are presented with a link that purportedly takes them to the company's secure website, where they can sign in to view details of the package and arrange redelivery or a pick-up, HOWEVER, it's the link that's the problem!
When a person clicks on the link, a vicious piece of malware is downloaded onto their machines, a clever program which, unfortunately, is managing to bypass a lot of personal computers' security systems and antivirus software. From there, your computer will either completely freeze or you will have limited access to the more important folders and file locations on your system. After a few minutes, and several Restart attempts, a message appears on the screen which informs the reader that the machine has been locked and in order to have the system released, you'll need to key in your credit card information and pay upwards of $100.
Paying the scammers doesn't even always result in your computer being released!
With most of these fraudsters, the criminals behind the scenes spend a great deal of time creating the horrific program, letting it spread like wildfire and then simply hoping that the release system works perfectly… which it doesn't, and they don't care enough to jump on and fix it because, hey, when it's broken to you and me, it's just making them more money! Some reports have confirmed that after paying the initial release fee, the system remains locked and a computer restart simply brings the message up again… In desperation to continue working, socialising, playing games, browsing the internet and generally living in freedom, people are being duped into paying the extortionate fees several times, and all to no avail.
The ACCC has released four tips to consumers that should help in determining whether the Parcel delivery email you've received is a fake and how to minimise the damage that this record-breaking scam is causing:
Delete any email claiming to have come from Australia Post about a package that wasn't able to be delivered – Austalia Post will put a notice through your letter box about parcels and packages that weren't able to be delivered, and they'll never email you about it, so just bin it.

If you've received an email from these major Delivery companies when you weren't expecting a package, do not click on links or download any files contained in the email, especially Executable (.exe) or Zip files as these are very likely to contain malware or ransomware.

If you're suspicious about your "missed" or "undelivered" package email, it comes highly recommended that you call the company directly and ask them to verify that the email is genuine. Do not use any contact details in the email, instead, perform a simple Google search for the real company's contact details and get in touch with them that way. It's likely that the number in the email will either direct to another scammer looking for another way to get your hard-earned cash, or it just won't be answered.

Back your files and folders up on an external hard-drive. These days they're really not that expensive and you're bound to find one with enough space to hold your basic computer back-ups. They come in real handy because when your computer goes haywire, after a scam or otherwise, you can simply wipe it and then re-install everything from the back-up.
This is just one of many scams that crop up around Christmas time, in fact, if you'd like a better idea of what else you could be in for, last year we published an article on "The 12 Scams of Christmas," and, although a year old, most of the scams described there are still in use today, although perhaps a little more sophisticated in terms of how effective they are. Click here to read the 12 Scams of Christmas article.
If you feel that you or someone you know may be on the verge of being scammed, or perhaps it's already begun, get in touch with Precise Investigation today and tell us what's going on. Our trained operatives and dedicated tech team can help you to protect yourself and, if you've already lost money, we can work with you to get it back. It's not guaranteed if the fraudsters are located in Northern Africa and the Arab States, but we have an exceptional 70% recovery rate which is far higher than many other Australian Private Investigation firms can boast.
Call Precise Investigation today on 1300 856 011 for a professional, Private Investigation Service
No matter where you're based in Australia, we can have a trained field operative by your side at a moment's notice; with offices in Melbourne, Sydney, Adelaide, Perth, Hobart, Brisbane and our specialists on the move, we've got you covered whether you're in the middle of nowhere or slap-bang in the middle of the city.
Call us today and see what we can do for you.
Image credit – Thank you Elena Roussakis from Flickr