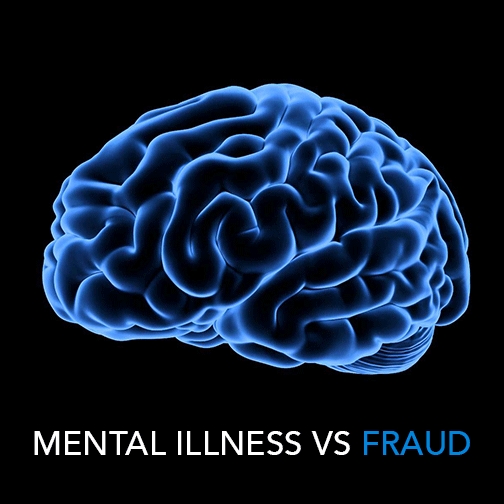 What Does Mental Illness Mean for Workplace Injury Fraud?
As most of you are aware, Worksafe Victoria is Government-backed organisation which aims to help minimise the number of work-related injuries, provide low-cost workplace injury insurance to employers, help injured workers to return to work and uphold and enforce Victoria's occupational health and safety laws. Their work is of paramount importance in an age where technology, production and prompt service delivery are expected to meet an ever-increasing, national and international demand.
Despite Worksafe Victoria's best efforts to ensure total peace of mind for employers and employees alike, unfortunately, there are a multitude of fraudulent claims, falsified reports and attempts to gain a financial advantage by deception that take place each year. With that, Worksafe Victoria expends significant resources in an attempt to minimise the negative effects of these crimes and other malicious practices relating to workplace matters.
Worksafe Victoria has managed to accomplish an outstanding success rate with regards to lowering the number of accidents and injuries that take place at work, thereby helping employers to continue at heightened levels of productivity, and their workers to feel safer and more content while on the job. However, with that being said, there has been an increase in the number of mental disorder-related claims, increasing from an average of 2874 claims between 2003 and 2004, to 3056 claims between 2012 and 2013; an upward trend of 6.13% – which is significant.
What does this mean?
While Worksafe Victoria has the tools, expertise and experience to help organisations and people to better understand the dangers involved in their respective industries and the related processes, there is still very little in the way of science that can help identify genuine mental disorders that aren't necessarily "extreme." As such, with today's advancements in medicine, it becomes increasingly difficult to fake injuries and, added to the ongoing and highly successful investigations carried out by Worksafe Victoria on injury claims, it's harder to fly under the radar when people are actually out to make a few extra dollars on the side. So, at a point where someone could feign a back injury to avoid going to work and, instead, claim a few extra thousand dollars each year until they'd recovered, it's more likely that Australia's going to see an increase in fraudulent claims relating to mental illnesses and disorders such as post traumatic stress, depression and anxiety.
Symptoms of physical pain are far easier to detect, as an onlooker, than those of mental illnesses and disorders. This, in turn, puts a higher emphasis on the importance of being meticulous during surveillance operations regarding people making claims relating to mental disorders and the like… something that a few photographs or video clips might not necessarily be able to expose, should the claim have been filed maliciously.
Precise Investigation takes great pride in having dedicated decades of ongoing research to interpersonal analysis, allowing our agents and dedicated support team to work together to uncover traits most commonly associated with a wide range of mental conditions; conditions that would naturally lead to a person being declared unfit for work.
Today, it's more important than ever to be weary of what people say, how they act and what they do with their time in relation to making a workplace injury claim – the internet has made it incredibly easy to share details of previous, real cases which anyone can access and ultimately learn from.
Don't let yourself fall victim to workplace injury fraud; the costs are far greater than the remuneration packages and insurance premiums that come with it.
Call Precise Investigation today on 1300 856 011 for a discrete, professional private investigation service.
If you'd like to find out more about our insurance-related investigation services, please click here.
Precise Investigation has operatives stationed across the whole of Australia with quick and easy access through our offices in Melbourne, Sydney, Adelaide, Perth, Hobart, Brisbane and even the more remote areas of the country. Should you require an expert opinion, or evidence to overcome a particular matter at work, at home or on the move, just get in touch with us and we'll do everything we can to help.

Thank you and we look forward to hearing from you.
*Statistics taken directly from Worksafe Victoria's online databases.