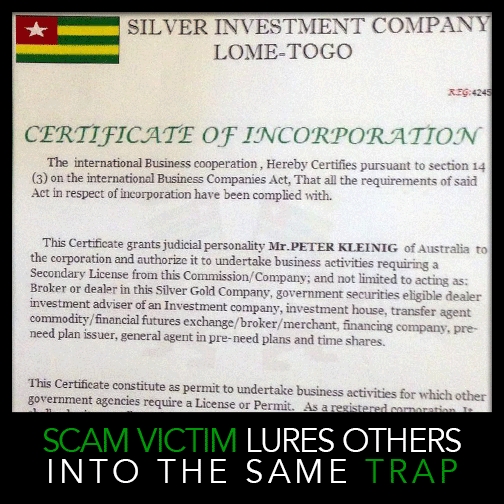 Scams Have a Wider Effect than You Might Think:
At some point in our lives, we've all come across or at least heard of or know someone who has come across an online Get Rich Quick scam. Now, while some of us share a predisposition to be suspicious of offers that are generally too good to be true, there are others that fall helplessly into the trap; moreover the elderly due to their lack of understanding of internet affairs, the promise of a retirement to die for and the simplicity in being able to achieve such immense wealth.
Here we have a case where Peter Kleinig fell victim to a Ghanaian investment scam, where the fraudsters pitched the idea of investing small amounts, over a long period of time, into a state-of-the-art gold mine… with the promise of a return in excess of $5 million at the end of the venture.
As such, Peter not only jumped at the opportunity, but informed and persuaded his friends and members of the community to jump aboard too. One such friend, the late Fred Williams, actually ended up selling three of his properties and losing $2 million.
Peter's transactions were monitored by Consumer Protection, the acting Commissioner of which, David Hillyard, issued several warnings to the former Esperance farmer, but Peter refused to believe that he was being duped and maintained his dedication to the investments and the promise of his $5.7 million return.
Needless to say, Peter ended up losing his life savings and, in the process, managed to convince at least 25 other people to part with their cash too. After Consumer Protection got involved in Peter's case, an investigation was launched in Esperance, which uncovered that the town was in fact a scam hotspot, with at least 30 victims having sent more than $750,000 to overseas scammers. Some to fake lovers and others to the Investment scam in question.
Despite everything that Consumer Protection told and presented to Peter, he was convinced that soon he'd have his bounty… "There's just one final hurdle. I have to pay a transfer fee of $18,000," he said. With that, the agency managed to limit Mr Kleinig's potential to harm others through an "enforceable undertaking," a breach of which would pass Peter's case over to the Supreme Court where a judge would ultimately decide on what action to take against him.
With all of this, it's easy to see just how damaging fraud and scams can be; it's never just that one guy out there who falls for it and, in cases where some people have been subjected to a scam and managed to walk away unscathed, there comes the convincing friend who talks their way into making you feel like it's a good idea after all. Peter lost his life savings after dishing out a few thousand dollars every month over more than a year and his friend, whose family believe passed away due to the stress of losing so much money, lost everything he had.
It's with that in mind that we would like to pass on a gentle reminder as to how important it is to carry out proper due diligence when looking to put your trust or money into any something or even someone new. Precise Investigation has the means and experience to provide you with detailed information about a given entity or person so that you can make an informed decision on whether to part with your cash or get involved. We have provided countless clients across Australia with clear, transparent and up-to-date specifications about investment opportunities, employees and employers, potential love interests and more.
If you're unsure about that big step you want to make, and you'd like some peace of mind in knowing you're doing the right thing, then get in touch with us today and have us do a little professional digging for you:
Call Precise Investigation today on 1300 856 011 for a discrete, professional private investigation service.
Click here if you'd like to find out more about our tailor-made Due Diligence services and how they can be seamlessly and discretely integrated into your busy life.
We have operatives stationed across the whole of Australia with regular and easy access to Perth, Melbourne, Sydney, Hobart, Brisbane, Adelaide and even the more remote reaches of the country. So, if you're ever in need, please don't hesitate to get in touch with us and one of our professional investigators, team thereof and dedicated support personnel will help you to expose the truths you're after.