The Halloween Crime Spike – What to expect in Australian this Halloween:
Tonight Australia is going to embrace an primeval celebration, most renowned in America, where houses are adorned with lights, creepy decorations, cobwebs and pumpkins and children of all ages dress in cute or terrifying costumes and go door-knocking for free sweets.
An ancient event, Halloween is derived from what is believed to be the Celtic festival of Samhain, where people would make huge bonfires and wear costumes to ward of evil spirits and ghouls. In the eighth century, November 1st was designated as a time to honour and celebrate the lives of all Saints and martyrs, by Pope Gregory III. The evening before this day, known as All Saints Day, was dubbed Hallow's Eve, which was then later renamed to the simpler, Halloween.
As time went on, Halloween was embraced by more and more people, before eventually becoming the child-friendly celebration that so many nations have now come to know and love.
If you'd like to know more about the origins of Halloween, you can read up about it here: http://www.history.com/topics/halloween/history-of-halloween
With that being said, and while the evening is supposed to be child-friendly, it is also a time where older people tend to allow themselves to drink and socialise more than usual – Halloween parties are happening all over the world, and have been for the last three days, and with these parties come a host of other issues. The drinking and drug abuse is cause for concern in itself, but along with those who risk their own lives for the sake of having a good time, there are others who steer clear of the booze. Sober as rakes, there are a growing number of YouTubers and Self-videoing fanatics trying to get attention online by terrifying unsuspecting victims.
Dressing up as Zombies, Ghosts, Werewolves and, most notably, "Killer Clowns," incidents of people being scared for their lives – and this is real fear I'm talking about here – is well and truly on the increase.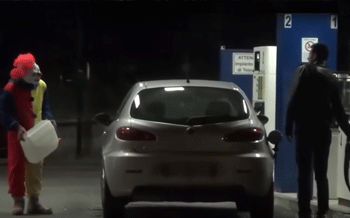 Ever since movies like The Purge came out, coupled with the viral sensation, "Killer Clown Scare Prank," where people dress as murderous clowns and are seen crushing the head of what appears to be a helpless man on the floor (with a huge sledgehammer), malicious people hiding behind masks are taking the opportunity for their turn in the spotlight. They gather a few friends, get their hands on a camera, hide away on some quiet, poorly lit side street… or in the bushes in a park, and jump out with axes, knives, machetes, hammers and even chainsaws, leading their victims to believe that their lives are going to end. The result? A video of people crapping themselves at the thought of a terrifying monster trying to kill them.
Funny, eh?
If you'd like to watch the original Killer Clown Scare Prank, it's right here:
https://www.youtube.com/watch?v=8xSNiPx791A
So what's the problem? Kids and youths are just trying to have some fun, right?
The trouble is, these pranks can go terribly wrong. In fact, here's a prime example… and with over 4 million views, it's no wonder that people go to the lengths they do to get this much attention:
And it doesn't end there.
In America and Canada, it is reported that crime tends to spike dramatically on three specific days; Halloween, New Year's Eve and Independence Day; particularly gun-related crime. In Australia, due to the fact that the celebration isn't quite as popular as the American event, crime statistics aren't readily available – it would seem as though nobody's taken the time yet to compile the data.
With that being said though, here's something interesting to consider: in Australia, the "Killer Clown" fad has grown so quickly that there are already two notable, Australian Facebook pages that we should be turning our attention to. The first is "The Clown Purge Sydney," a page with over 15,000 likes, and the other is "Clown Hunters Australia," with just under 6,000 likes. The first is a page dedicated to people who want to dress up like clowns and scare the hell out of people, with members organising meetings in public places where they arrange to set up their horror studios, and the second is a page for those who oppose the craze, providing members with the strength of a small community of like-minded people who work together to arrest or otherwise deter "killer clowns" and their minions.
Here's a video released by 7 News Brisbane that highlights the issues perfectly:
https://www.facebook.com/7NewsBrisbane/videos/1282450411767808/
So, what to do?
For now, don't worry too much – and if you are confronted by a crazed clown, it would be best to simply laugh it off and move on. Besides, if you run or freak out in any other way, you're likely to be put on YouTube as a "successful scare." There is yet to be one homicide directly linked to "Killer Clowns," internationally… so for now we're safe from death at least.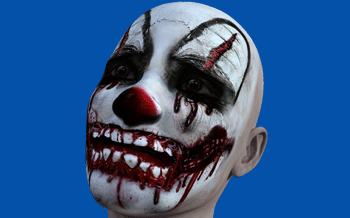 When people hide behind masks, it becomes ever easier for them to perform actions, specifically crimes or other malicious acts, as they feel as though their identities are harder to trace, their reputations aren't at stake and, moreover, they could potentially make money or become famous as a result of what they do with those masks. This is the troublesome and potentially dangerous side of Halloween that we all need to be aware of and prepared for.
In the UK, muggings and violent crimes tend to increase over Halloween and it's predicated that Australia will, if not already, suffer the same fate as guns and murderous weapons are harder to come by. Masks, on the other hand, are not. In fact, you can pick up a "decent" clown mask for under $40 with free delivery online and around $50 on the high street – if you can find a costume store.
The reason I'm bringing all of this up, is this time last year, I was involved in a case where a woman had her property vandalised with spray paint, silly string, rotten eggs and fake blood, by a group of youths dressed up for Halloween. After the Aussie lady refused to give the teenagers any sweets, they asked for alcohol instead. Refusing this as well led to over $7,500 worth of damage to her home.
If you'd like to read more about the "Killer Clowns" and the effect their having on Australia, here's an article from Huffington Post:
If you'd like some safety tips, whether you're a parent or a trick-or-treater, then here's another article from Huffington Post that explains the steps you can take to protect yourself and your children, as well as some practices you can observe to make your evening and the festivities more enjoyable: http://www.huffingtonpost.com/frankie-rendon/crime-spikes-on-halloween-fictional-ghost-story-or-factual-concern_b_8309014.html
Have fun out there and be mindful of the dangers that lurk in the darkest corners.
If you're staying home tonight and you'd like a good Horror movie to watch with your partner, I suggest Paranormal Activity (the first one). One of the best ghost movies I've ever seen.
Happy Monday and Happy Halloween!