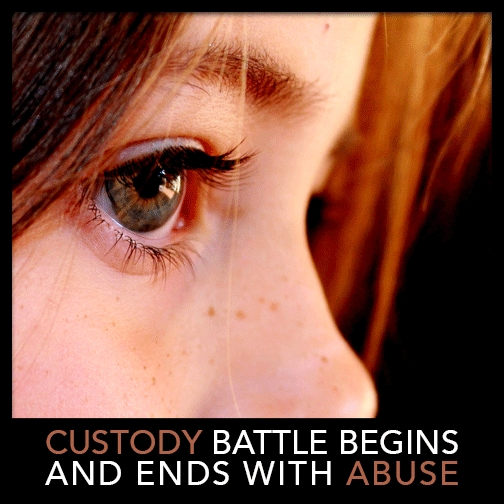 Abuse Before and After Child Custody Battle:
Helen Basingstoke is a seven-year-old girl who lost both her parents before she'd even had the chance to understand who they were. Her mother, Karen died giving birth to Helen and her father, Nick committed suicide just a year after she was born.
Fortunately, it would seem, Helen was taken into a foster home for two years, until she was adopted by Dave and Linda Reece; a software engineer and secretary working for two reputable companies in Sydney's centre.
Helen's remaining blood relatives had long since left Australia, other than her legitimate uncle, Karen's brother, who, at the time of her birth, was just seventeen-years-old and unemployed. Over the course of her early childhood however, Percy had managed to set up his own business making customised phone accessories online. While he wasn't a millionaire, he had managed to generate a sizeable income by the age of just 23.
Percy had always been interested in Helen and wanted, desperately, to become her guardian. However, due to his age and employment status at the time of his application, and given the interest in her from Dave and Linda, his attempts were refused and the couple were allowed to take her.
Over the four years that followed her adoption, Percy made several attempts to see Helen and asked that Dave and Linda allow him to visit her. The couple, however, responded with hostility, forcing him away each time. He was determined to find out, at least, whether Helen was happy; so, for countless mornings, he attempted to wait outside the Reece residence, hoping to catch them taking her to school.
On one particular morning, he'd managed to follow them successfully, thereby finding out which school she was enrolled in and for six months thereafter, every lunchtime, he tried to see her. Some visits he'd be able to say hello, others he just watched from a distance as she played or ate with the other children.
However, on one occasion, a teacher noticed him and proceeded to enquire as to who he was and what he was doing there. He tried to explain the situation, following which the teacher called Linda, who grew furious and had the school see to it that Percy never return, failing which the Police would be notified.
It was at this point that Percy decided to turn to a professional for help. He was merely interested to know whether Helen was genuinely happy with her new family, or if they were struggling to make things work. If the latter was true, he'd apply again to NSW's Family and Community Services to gain custody.
As such, Percy got in touch with our offices and asked that we investigate. He asked that we run a simple surveillance operation at Helen's home, for two weeks, to determine whether Dave and Linda were suitable parents.
Within two days, we had an operative at the scene, using an unmarked vehicle as a base and going on to make regular video recordings of all of their interactions together. Whenever the family moved to the living area, our agent would need to navigate through thick bush and shrubberies to get to the back of the building, where he had a clear view of both their lounge and the main bedroom.
Everything seemed perfectly fine; Linda appeared to adore Helen, brushing her hair in the mornings, sitting with her and Dave in the evenings to watch movies and playing with her whenever possible; Dave also seemed equally fond of Helen, yet her attitude towards him was somewhat strange. Whenever he interacted with her, especially alone, she would appear to freeze up. Making no eye contact and dropping her head. This didn't really make sense at first, with our operative, although making notes, brushing it off as simply being a little odd. With that being said, Dave often put Helen to sleep at night, as well as helping her to dress in the mornings before school when Linda was in a rush.
On the second Saturday of the operation, with just three days left on the job, Linda left the house for a few hours, leaving Dave and Helen alone… and our agent was in for a surprise. Within just a few minutes of Linda leaving the house, our operative recorded Dave undressing Helen while he sat on the sofa. From there, he proceeded to tie Helen's hair into a ponytail, before gripping her behind the head and lowering her face towards his groin.
Our operative, immediately relayed the information to our offices and we quickly informed Percy as to what was happening.
Percy asked that we make three copies of the footage straight away and that upon handing them over, the operation would be terminated.
When asked how he was going to proceed, he told us that he was going to show one copy to social services and post the other through Dave and Linda's letterbox, addressed to Linda. The other copy was a spare in case he needed to involve the police or pass it over to any other agencies that might be able to help.
This case took place four months ago, and we share it with you today because we've just heard that Percy has now gained legal guardianship over Helen and continues to share custody with Linda.
Child custody matters and matrimonial issues can often be deeply complicated and usually result in a great deal of emotional trauma for all involved. With that, it's important to know that if ever you're in doubt about solving an issue you're facing at home, Precise Investigation has been helping couples overcome their troubles for thirty years, assisting them and the courts to determine whether their partners are fit parents after a divorce, whether they're faithful to each other during marriage and more.
If you think your relationship with your children, your spouse or partner could be improved but you don't know how to go about it:
Call Precise Investigation today on 1300 856 011 for a discrete, professional private investigation service.
Please click here to see more information about our child custody and matrimonial investigation services.
Precise Investigation has operatives stationed across all of Australia, giving Melbourne, Brisbane, Adelaide, Sydney, Perth, Hobart and even the more remote areas of the country, unparalleled access to some of the highest calibre private investigators available. If you'd like to know what we could do for you or your family, please get in touch with us today and we'll be more than happy to lead you through it all.

Please note: All names, addresses and characteristics described in this article have been changed to protect the identities of those involved.