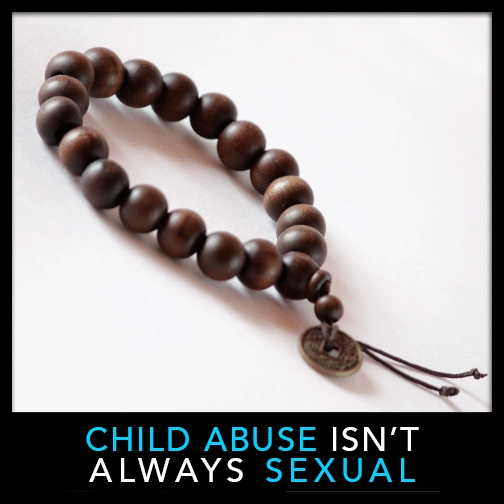 Slavery or Abuse?
We were recently tasked with running a surveillance operation on Michael Finley, an arts teacher at High Gate Secondary School, a mid-sized, co-ed institution in Perth, after the parents of one of his students became suspicious of the work he was asking of her.
Joanna and Freddie Quinton became concerned after their eleven-year-old daughter, Julia came home and told them of an observation she'd made.
Every week, Mr. Finley would assign his class with homework and in most instances, this work involved making beaded jewellery, such as bracelets and necklaces, and in others, "conceptual art" where the child was free to draw or paint anything they wished on an A4 piece of paper. Julia's parents would sometimes sit over dinner and help her to make up to five pieces of jewellery, using different types of wood, plastic, glass and metallic beads.
One afternoon, after Julia was asked to focus more on necklaces this week, she came home and told her parents that she was angry with Mr. Finley because he didn't give any bracelets to Mrs Becker, her Mathematics teacher. Mr. Finley had told his class that he was asking them to make jewellery for all the teachers at the school and their friends, yet when Julia asked Mrs Becker why she wasn't wearing hers, she told Julia that she'd never received one.
A quick calculation carried out by Julia's parents told them that something was very wrong; 5 pieces of jewellery made by 15 students in each class, of which there are 5 classes per school year, multiplied by the previous three months equalled a staggering 13,500 items. But where were they?
Freddie called the school the following morning to make an appointment to see the Headmistress and discuss what had been happening. In that meeting, Mr. Finley was called in to explain his actions, to which he responded that he had merely told the children about giving the bracelets to other teachers as a form of motivation and that, in fact, all the bracelets and necklaces they made were cut up and recycled.
After a check with the school's HR and procurement department, the Headmistress told the Quinton's that there was no record of more art supplies being ordered and that Mr. Finley's actions, although bizarre, were nothing to be worried about.
Unsatisfied with the outcome, after a sense that Mr. Finley wasn't telling Freddie the truth, Joanna waited with Julia after school one afternoon to watch Michael after he'd received another batch of jewellery from Julia's class. They saw him leave the art block with a box of A4 printer paper, resealed with packaging tape, under his arm. It was at this point that Joanna asked Freddie to find someone that might be able to shine a little light on the situation.
Freddie got in touch with us that evening and asked us to run a simple investigation, over the course of a week, to determine what Mr. Finley was really up to.
As such, we stationed an operative at the school, with a good vantage point of Michael's classroom and went about following him home in the afternoons.
Within just two days of the operation we gathered evidence of Michael doing the following:
      

He was photographed putting numerous pieces of the jewellery and art into a cardboard box in the classroom, before taping it up and transferring it to his vehicle.

      

Over the weekend, after having breakfast on Saturday morning, he was filmed unpacking the items onto his dining room table, and taking photographs of each one, before then connecting his camera to his laptop.

      

The following week, at Lunchtime on Tuesday, he was photographed leaving the school, taking several small packages to the post office.
At this point, our operative shared the information with our dedicated support team, who then ran a web-based search for the items in question. After cross-referencing a number of item descriptions written by Joanna, the team found that the bracelets were being sold online on eBay, Gumtree and Locanto. Furthermore, while the user's ID was unrelated to Mr. Finley, the items were described as being made by disabled children and sold in an attempt to raise funds for the hospice in which they resided.
This information was shared with the Quintons, who then went on to call off the investigation before placing an order through a family friend on Gumtree for 15 bracelets and 15 necklaces; an order that came to just under $150.00. When the items arrived, they sat down with Julia who went on to identify not only one of her own, but several of her friends'.
With that information in hand, Freddie and Joanna saw the Headmistress again, asking that Mr. Finley be fired and the money they'd paid be reimbursed. Furthermore, although we are unaware of the outcome of their requests, they asked that all of the money Mr. Finley had made be paid into a genuine charity, failing which they would press charges for fraud and child abuse against both Mr. Finley and the school.
Precise Investigation can work to suit and expose the truth surrounding any potential case, whether it be as simple as uncovering a romantic affair or as complex as underhanded workplace practices and fraud.
If you need a professional opinion or the unrivalled services that only thirty years' experience as one of Australia's leading Private Investigation firms can offer, please:
Call Precise Investigation today on 1300 856 011 for a discrete, professional private investigation service.
To find out more about our tailor-made surveillance operations and how they can help you, please click here. If, however, you're interested in a more thorough Fraud Investigation, please refer to this link.
Our team works for domestic, corporate, government and industrial clients across the country, regularly servicing Melbourne, Sydney, Perth, Hobart, Adelaide, Brisbane and even the more remote areas of Australia. Get in touch with us today and have one of our trained, qualified and fully insured operatives lend a hand in helping you to get to the bottom of your issues.

We look forward to hearing from you.

Please note: All names, locations and characteristics of the people, places and items described in this article have been changed to protect the identities of those involved.
Image credit: Thank you Wikipedia