What to Do if You Think Your Workplace is Bugged?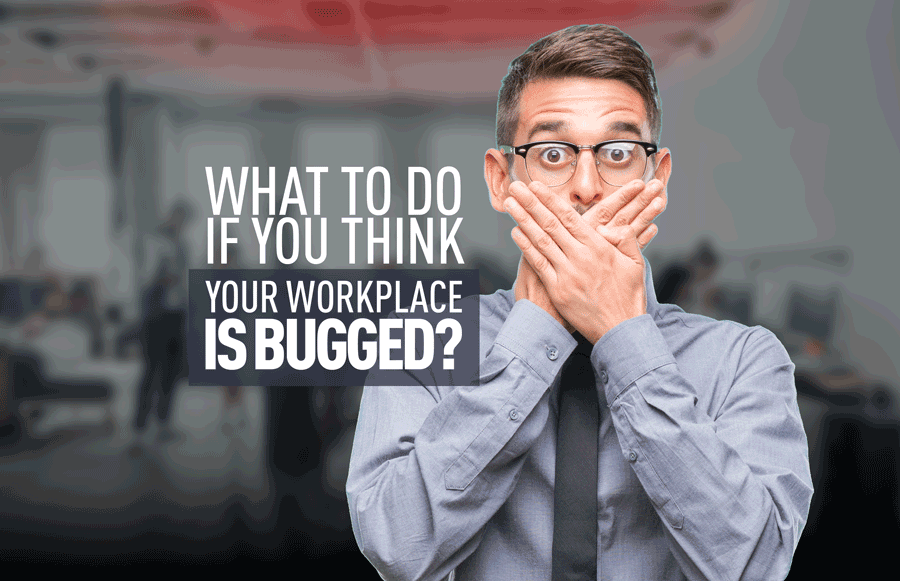 With the corporate world aiming to achieve financial growth, sustainability and to outperform the competition, corporate espionage remains a critical concern for businesses.
Do you ever wonder, "is my office bugged"? Then you should first learn about the common types of covert bugs or eavesdropping devices that can be used to listen into your conversations and steal confidential business information before you decide to reach out for professional help:
● Optical spying devices
● Wiretapping
● RF Transmitters
● Portable voice recorders
● Voice amplification devices
● Spy cameras
● Bionic ear devices
There are certain signs of spying devices that can indicate someone is spying on you. For instance, there may be multiple occasions when confidential business information is leaked despite security measures, your competitors may seem to know secret information about tenders or corporate bids, or your workplace was the target of a burglary; however, the offending intruders didn't steal any expensive items.
Pay attention to electronic devices as well, since interference or strange noises during phone calls or radio and TV transmission can also indicate your privacy may be compromised.
So, what can you do when you have reasons to believe that your workplace is bugged?
Stay Calm
It makes perfect sense why you may worry if your employees or business competitors are spying on you through electronic bugs. But it's important to maintain your composure and keep panic at bay. Otherwise, you won't be able to understand how to manage the situation the right way and may end up making costly mistakes such as alerting the person who installed the device in the first place.
Therefore, stay calm and clearly think of reasons why you think someone is spying on you and come up with suitable solutions to detect and eliminate any bugs.
Turn Off Electronic Devices
While spying devices are still common for spying on businesses, hacking smartphones and computers has become a more convenient and effective way of stealing business information.
Accordingly, it's recommended to turn off electronic devices including your smartphone before conducting a corporate bug sweep.
Don't Disclose the Information
If you think the workplace is bugged, then refrain from announcing it since you can't ignore the fact that someone within the organisation might have installed the covert device for spying on your conversations.
Rather, you should only share this information with trusted people who need to know this for identifying and resolving the problem.
Don't Talk About Bugs Inside the Premises
If your workplace is actually bugged, talking about it near the electronic bug will alert conspirators and they may temporarily remove the covert device and hide their trail to avoid detection. So, don't talk about the matter indoors.
Rather, talk to professionals who can assist you with resolving the problem. Instead of communicating through a smartphone, it's better to meet them in person and make sure your phone is either turned off or kept at a distance during the meeting to ensure you don't unintentionally leak information in the event that your phone has been bugged.
Avoid Important Discussions Until the Area is Cleared
If the workplace bugged, then those who installed the device may be listening in on your business conversations through a receiver, so be cautious to avoid disclosing confidential information.
For this purpose, avoid talking about important issues in potentially bugged spaces until it's cleared by professional electronic bug sweeping services.
Don't Try to Conduct Bug Sweeping on Your Own
Corporate bug sweep is a challenging task that requires advanced tools and specific knowledge to detect a variety of spying devices, so it's not a good idea to try to do it on your own, especially when you aren't equipped with industry-specific knowledge and tools.
Refrain from buying cheap bug detectors from the market since they don't always work. Effective bug sweeping tools on the other hand, are quite expensive. Therefore, you may instead opt to contact professional bug sweep detection services that can detect electronic spying devices through cutting edge technology.
Contact a Professional Private Investigator
A corporate bug sweep by a licensed private investigator can be your go-to option since they are equipped with advanced TSCM equipment and technology to discretely detect and remove bugs and eavesdropping devices. Their vast experience of conducting deep corporate and residential bug sweeping can help you determine whether your suspicions are true and offer you peace of mind.
When you contact a private investigation firm, they would thoroughly check the workspace for covert devices or electronic bugs and inspect work computers for potential spyware.
Furthermore, they can track and reveal the receiver of electronic bugs in some cases to help you identify the person who was spying on you. You can then take disciplinary or legal action against them, if needed, through the collection of relevant evidence.
Once a PI inspects the premises for electronic bugs or spyware on systems, you get assurance the workplace is free of eavesdropping devices. However, whether or not you may find electronic bugs during the process, it's crucial to devise a strategy to avoid the problem down the track.
Protect Your Business from Future Risks
Since most businesses now aim to go paperless, you can't ignore investing in IT network security measures to protect business data. Make sure your work systems are secured with effective anti-malware tools, especially when many employees work from home or you have a BYOD policy in place.
Hiring a private investigator for electronic bug sweeping services on an annual basis can also assist you in keeping the workplace bug-free.
Do you want to inspect your workplace for eavesdropping devices or software that may transmit conversations about business matters through a receiver? Then a Corporate Bug Sweep Service by private investigators could provide the solution you need!