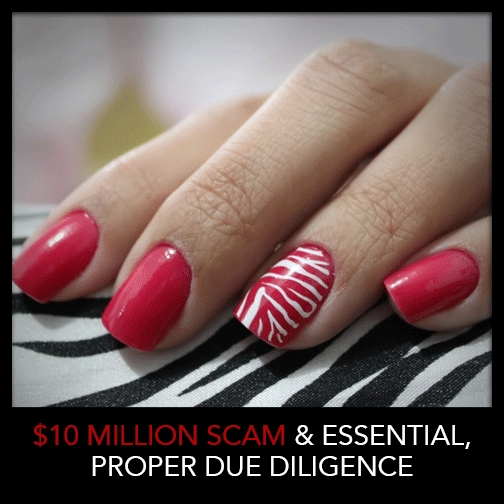 The Importance of Due Diligence in Business:
A Sydney-based man has been arrested at New Zealand's International Airport as he attempted to flee the country, following allegations of multiple counts of major, international fraud.
The man goes by many names including, Daniel Albert, Daniel Hannah, Daniel Erefor and Daniel Bowman, to name a few, and has been accused of ripping off a string of international investors to the tune of $10 Million AUD.
His largest two rip-offs to date where carried out under the guise of two successful and reputable companies that lied to customers and didn't deliver what they promised. The first of which was a vending machine company called, Laqu Vending, where Daniel lied about granting the operators (investors) sole rights to the machines and the clever technology within them that allowed clients to track sales in "real time." Fortunately, these customers received functional vending machines, but none delivered on the "real time" tracking that the company advertised. The second was a company that Daniel set up with his wife, Kelly Hannah, called, Glamour Nail, which aimed to sell franchise rights to an automated nail and manicure machine, which the company claimed would "print intricate designs" on their customers' fingernails. It turns out that the machines never worked… not one.
The disaster, although seemingly purposeful, led to Glamour Nail collapsing in 2013 and owing over $4 million to more than 60 clients who invested in the technology.
Despite large numbers of Daniel and his wife's unhappy customers making formal complaints to the Australian authorities, they claim that little action has been taken to reprimand, detain or otherwise punish the malicious couple.
That is, right up until the arrest at New Zealand's airport this week after another string of international investors made accusations into the way Daniel did business… the red light of which was triggered when the police were made aware of the fact that Daniel fled Australia for New Zealand just a few days before.
While this is an interesting story that reflects on yet another one of the thousands of methods that people employ to victimise and steal from others, it brings us to an important point that many businesses and investors tend to overlook.
A great deal of the losses that these companies suffer could have been avoided had they opted to perform some due diligence; that is, performing a number of checks on the people and/or businesses that they're about to invest in, before spending their hard-earned cash.
That's where Precise Investigation comes in. Whether you're hoping to look into someone's past, a company's legitimacy or even to determine whether the person you're dealing with is really who they say they are, Precise Investigation's professional background checks and due diligence services are sure to dig up the information you need and help you to make an informed decision, moving forward.
Call Precise Investigation today on 1300 856 011 for a professional, Private Investigation Service
If you'd like to know more about our Due Diligence services before getting in touch with us, please click here.
To know more about our professional background checks, please click here.
Precise Investigation has operatives stationed across the whole of Australia to give our clients quick and easy access to our professional private investigation services. Whether you're based in Sydney, Melbourne, Adelaide, Perth, Hobart, Brisbane or even the farther reaches of the country, we're sure to be able to lend a helping hand and put you in a much better position to make those important decisions.
Image credit – Thank you Wikipedia